A knitting blog of my very own?
Since I have now joined the MD KAL...I've kind of become fascinated with trolling the net for knitting stories, pics and patterns, and now I really want a place to make little updates on my own knitting. Most of my projects right now are not actually from the MD book, so I think that this blog shall become my knitting blog - since it's laying around all unused and stuff.
So, my first knitting post. I'll put up photos or my stuff and my stash a bit later, when I figure that out. Today I am trying to finish my sari silk scarf, because it's cool - both the scarf and the weather. I am also halfway through a dishcloth in pretty colors, but I'm setting that down for a while because even holding the needles (aluminum at the moment) for one row makes my hand and wrist ache for hours. This could be a problem.
Then it's on to all my stash projects. I have one skein of Misti Alpaca in teal for a scarf, and I recently recieved three skeins each of Malabrigo worsted in Emerald Blue, and Malabrigo Laceweight in Citrus. These yarns are so amazing....*daydreams*
Anyway. Most of the citrus laceweight is going to become this: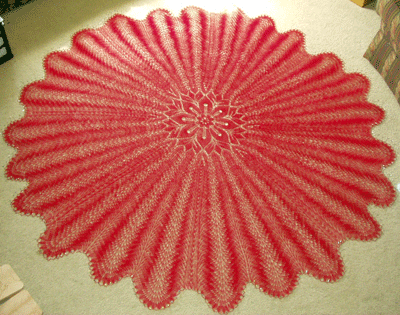 The Feather and Fan shawl from the book A Gathering of Lace. Nope, never made lace before. But I. want. this. shawl.
The worsted weight yarn may become wristwarmers, and maybe a hat, or another kind of shawl. I'd like to make something clapotis-like, but I don't actually want one of those.
Otherwise, I need to obtain some of the needles known as Addis. Since I don't really have an LYS, this could be difficult - the only one nearby is downtown, and I won't go into Detroit by myself.
Well, I gotta run, since the shop is actually getting a ton of customers today --